Table of Contents
Bantam lathe moving plan
Lathe details
Weight: 445kg

Length: 1345mm

Width: 635mm
Lifting/moving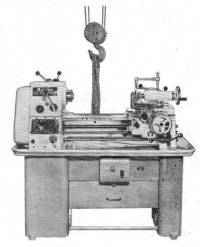 The manual recommends lifting the lathe from a cross bar which passes through the bed in front of the headstock.
Options:
2-ton engine hoist

Someone probably has one we can borrow, or we can rent/buy

Rating drops to half-ton at full extension, which is why we may want the 2ton one over the cheaper 1ton ones around.

How high does it lift? High enough to get in a van or on a dropside transit?

HIAB hire

Forklift

Might be possible to use the one in Summerhall.

Jack up the lathe and build/place a pallet under it

No metal on metal, there must be some ply or cardboard or something to stop it slipping on the forks.

Lathe is going to be very top-heavy.

Luton van + tail lift

Dollies

For easy moving around on the ground/in buildings

Should be wide enough so we can bolt into them through the lathe's bolt holes

Ready-made ones all seem expensive

Sets of heavy-duty castors are cheap for DIY efforts.
At Portobello
At Summerhall
Main entrance:
Fairly steep incline up to the door. Is it possible to push the lathe up the slope on a dolly safely?

Lots of corners to navigate

Can we take it through the lift? What weight is the lift rated for? Do we trust that rating?
Fire exit entrance
Good proximity to the workshop, fewer corners to navigate

Step-up into the building

Confined space, difficult to operate any sort of lift in

May be possible to build out a platform at floor-level outside, put the lathe on it, roll it in?