Table of Contents
Raft Race
The Challenge
The raft race is held every year in June/July as part of the Edinburgh Canal Festival. The race takes place in the Lochrin Basin at the end of the canal in Fountainbridge.
Hacklab has entered every year since 2011, (except during COVID, 2020-2021).
This years raft race will run in the Edinburgh Quay Canal Basin from 2.30-4.30pm on Sat 18th June 2022.
Ideas
We're getting too good at this. We should aim for the Daftest Raft award and provide maximum entertainment value.

Carry lots of people (at least 6, 8-10 would be ideal). This provides entertainment value, and allows more Hacklabbers to take part.

Carry passengers (more fun, at doesn't give us the unfair speed advantage of lots of paddlers).

Articulated raft, multiple segments tied together (easier to transport, can be scaled up to more people).

Submarine.

Simple raft, outrageous decor. (e.g. look like an aircraft carrier, or a giant shark)
Previous Years
2011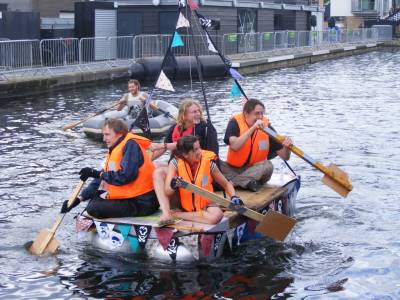 4-person raft based on 6 gym balls.
https://edinburghhacklab.com/2011/07/raft-race-report/

---
2012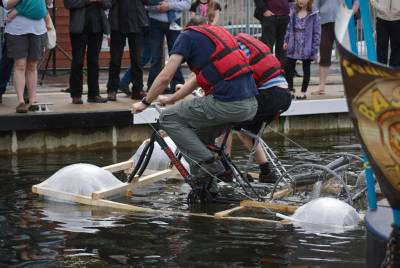 2-person pedal-powered paddle-wheel craft with gym balls for buoyancy.
Winner of Daftest Raft award!
https://edinburghhacklab.com/2012/07/award-winning-hacklab-raft/
http://www.edinburghcanalfestival.org.uk/raftphoto2012.html

---
2013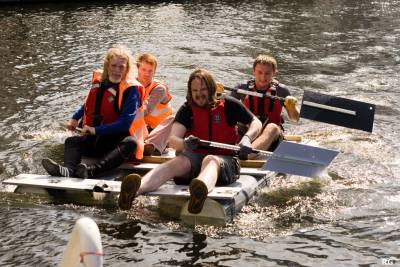 4-person vessel constructed from PVC tubes. First place winners!
https://edinburghhacklab.com/2013/07/edinburgh-hacklab-wins-canal-festival-raft-race/
---
2014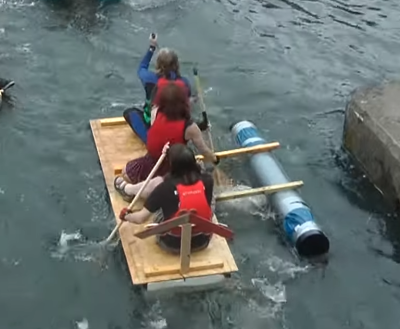 3-person vessel constructed from polystyrene sheet and PVC tubes. 1st Place
https://youtu.be/tRphBr_lyEo
---
2015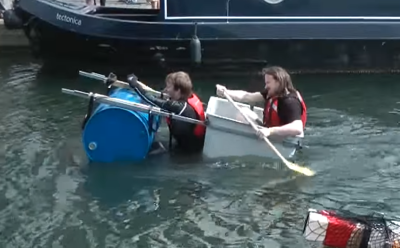 2-person raft based on an oil drum and a large tub. (no prize)
https://youtu.be/3GBIKQ-LbWo?t=561
---
2016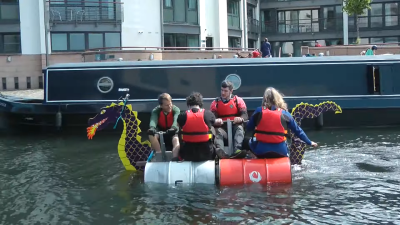 4-person barrel and metal frame, flipper/paddle driven. (no prize)
https://youtu.be/40T6zGjpbl8?t=304
https://youtu.be/UTO98LgxfhU?t=163
---
2017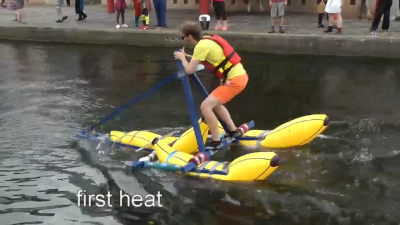 Single-person inflatable banana hydrofoil. Prize: Most entertaining
https://www.youtube.com/watch?v=FVVi5ptvL3A
---
2018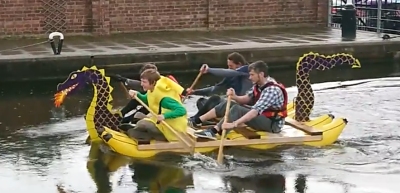 4-person inflatable banana dragon raft. 1st Place
https://edinburghhacklab.com/2018/06/edinburgh-hacklab-goes-bananas-at-the-union-canal-raft-race/
---
2019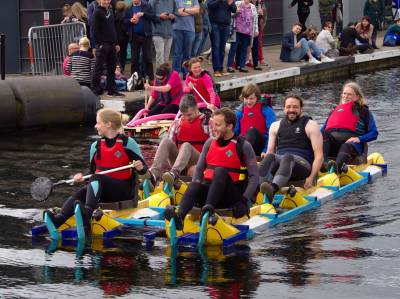 6-person banana flipper raft. Fippers attached to lever+bike brake cable mechanism, which overheated and popped the bananas. 3rd place prize
Photos:
https://www.flickr.com/photos/cazagen/albums/72157709095336796
https://lightroom.adobe.com/shares/80714c9b6e834ec5a4af31d4829004bd
https://yadi.sk/a/hyWWAK2I2Rn1jA

---
2020 - 2021
<sarcasm>This year's raft race was done fully online because of covid reasons. Each team 3D scanned and measured the physics properties of the materials they would have used in building their raft. The materials were assembled into a raft inside of CAD software before being simulated inside of a Computational Fluid Dynamics/Multiphysics program.</sarcasm> https://www.facebook.com/permalink.php?story_fbid=3507286949301403&id=237399276290203
---
2022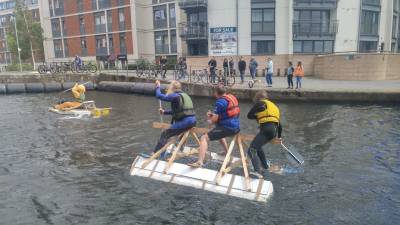 The race is back after 3 years!
3 person raft (it flipped over with 4 people on it) - triangular wooden frame with styrofoam blocks underneath. The design was based on a water skeeter / pond skater. Built by Gandolf and Miron, with Jim sitting in the middle
Got 2nd place and a prize for 'Most Creative Raft'
https://www.flickr.com/gp/195883871@N03/98623n
---
raftrace.txt · Last modified: 2022-06-18 23:01 by MirZa
---